FAQs for Employees & Managers
FAQs for employees address payroll, benefits, retirement, and other general questions UCPath.
In UCPath, the deparment code is a series of letters which identifies a given department (ex: KNBAM). 
The Dept ID is numerical digits, which are part of the chart string, identifying the associated department (ex: 37250).
UCPath Overview
UCPath is the University of California's single payroll, benefits, human resources, and academic personnel solution for all UC campuses and medical centers. UCPath replaced UC's 35-year-old payroll personnel system (PPS) and updated HCM, standardizing and streamlining payroll and HR processes system-wide. As of July 2020, UCPath serves all 230,000 employees of the University of California at all ten campuses, five medical centers, UC Office of the President, UC Agriculture and Natural Resources, UC Hastings College of the Law and the Associated Students of UCLA.
Read more about the systemwide UCPath Project.
UCPath Online is the online portal that UC employees use to access to their personal employment information, including paychecks and benefits enrollment.
UCPath Online also allows managers to view some information about their direct reports.
UCPath = UC Payroll, Academic Personnel, Timekeeping & Human Resources
Benefits
UCPath determines the dependent's relationship to the employee based on the selections entered and populates the relationship description, e.g., Family, Child EE Biological/Adopted, Grandchild EE/SP/DP;EE TxDp.

The abbreviation coverage codes at the end of the relationship description refer to no imputed or imputed income. For example, Family (NA+FC) would mean no-imputed income adult + federal imputed income child. Any dependents you enroll who are NOT your tax-dependents would be subject to imputed income.
Abbreviation Coverage Codes
IC means imputed income child.

IA means imputed income adult.

FA means Federal imputed income adult.

FC means Federal imputed income child.

NA means no imputed income adult.

NC means no imputed income child.
FAQ also listed in UCPath Resource Center
 No, only one benefit event can happen at a time per day. If a life event is open, the life event for the current year must be closed before submitting open enrollment elections for next year.
UCPath Online is used for benefits enrollment, usually during the Open Enrollment period each fall, or due to a qualifying life event. 
Employees may also call the UCPath Center if they have questions about their benefits or the enrollment process.
Vacation, Sick, and Other Leaves
Yes. You will enter your time and any leave in CalTime, and it will not be reflected in UCPath until after your payroll is processed (biweekly or monthly). 
Retirement
UCPath does not have retirement information. Retirement information and resources can be found in: 
Tax Information and Deductions
UCPath Center
The UCPath Center (UCPC), is the processing center for the UC system, based in Riverside, CA. It is where payroll, benefits and human resources information is processed for all UC campuses and medical centers.
UCPC staff provide support and are available Monday – Friday from 8 AM to 5 PM (excluding UC holidays). UCPC can be reached by phone 855-982-7284 or by clicking "Ask the UCPath Center" button in the top right hand corner of UCPath.
The UCPath Center provides services to support payroll and benefits processing, such as:
Executing/managing the payroll compute and employee payment functions
System wide payroll related benefits interactions (e.g., processing payments for healthcare vendors)
Tax processing
Garnishment processing
Employment/income verification
Yes, the UCPath Center has staff who can assist employees in Spanish and other languages. The UCPath Center also partners with the interpreter service Language Line Solutions, servicing 240+ languages and is available on-demand.
Former Employees
Former employees (those whose employment ended between March 2019 - present) can access UCPath by following these instructions:
When you get the window shown below, select the last option "University of California, Former Employees"
Create an account using your personal credentials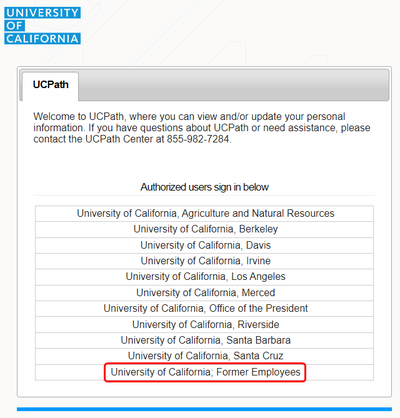 Another option is to call the UCPath Center at (855)-982-7284 and ask for assistance in logging into UCPath Online. 

Employees who ended their employment with UC prior to March 2019 can still access their information in At Your Service Online (AYSO).
Other Questions
All employees were issued new ID numbers with UCPath implementation in March 2019. You can find your employee ID in the top left corner of the UCPath dashboard when you log in to UCPath Online. 
You can also use the CalNet Account Manager to view ID numbers for other systems. Access the CalNet Account Manager by visiting mycalnet.berkeley.edu and logging in using the link in the top right corner. The CalNet Account Manager home screen will display a "My ID's" field, which will include your UCPath employee ID (main employee ID), your HCM ID (former employee ID), and your Campus Solutions ID (if applicable).
UCPath uses a third party vendor, The Work Number (Equifax) to provide employment verification. Employees log into UCPath, and navigate through Income and Taxes to Verification of Employment request. If you are applying for a loan, an apartment or job, your employment verifier (e.g. bank, leasing agent, or employer) accesses your employment information through The Work Number website. Instructions are detailed in the Verification of Employment page. The UCPath Center is currently preparing a self-generating letter on UCPath Online similar to what's available in AYSO today.
Employees can access UCPath from any computer, tablet or smartphone, using CalNet authentication and Duo verification. There are also Kiosk Workstations available around campus for employees who do not have their own computer.