Employee Self-Service
UCPath Online gives employees 24 hours a day, 7 days a week access to UC employment information based on their role. Employees can log in to UCPath Online from mobile devices, tablets, or computers, at work or at home. Through UCPath Online, employees have the ability to update personal information, add or update direct deposit, update tax withholdings, enroll in benefits, and more.
Employee Information
Direct Deposit
Enrolling in direct deposit means you'll receive your pay faster and more securely, and you don't have to worry about updating your address when you move.
With UCPath, you can you can elect up to three (3) direct deposit accounts at different financial institutions. (Note that only one change may be made to direct deopsit information per 24 hour period.)
Enroll in direct deposit in UCPath Online by navigating to Employee Actions > Income and Taxes > Direct Deposit.
Please note that although your information will be saved in the system immediately, UCPath needs to verify your account with your banking institution before beginning direct deposit. Depending on the timing of your enrollment and pay cycle, you may receive a paper paycheck in the interim period while UCPath is verifying your account. 
Employment Verification
UCPath uses The Work Number to provide verification of employment for UC employees. Please note that if you have not been employed with UC since January 2019, you must contact the Records Management team for past employment verification.
Current employees (or those who departed UC after January 2019) should log in to UCPath and select "Income & Taxes" from the menu, then select "Verification of Employment." 
You will be directed to the following instructions under "How to Provide Proof of Your Employment and Income:"
Please provide your employment verifier the following information:
Inform them that UC uses the The Work Number
Provide them the University of California Employer Code: 15975
Provide them your Social Security Number
In some instances, you may also need to create a "Salary Key" in order to complete an income verification. If your employment verifier requests a salary key, please follow these steps:
Log in to The Work Number as an employee.
Enter the following information:

UC Employer Code: 15975
User ID: Your Social Security Number
Personal PIN: Your birthday (MMDDYYYY).

Select the "Create a Salary Key" option.
Provide your verifier the six-digit salary key.
ID Numbers
Find your new employee ID number in the top left corner of UCPath.
You can also use the CalNet Account Manager to view your ID numbers. Access the CalNet Account Manager by visiting mycalnet.berkeley.edu and logging in using the link in the top right corner. The CalNet Account Manager home screen will display a "My ID's" field, which will include your HCM ID, your UCPath ID, and your Campus Solutions ID.
Open Enrollment

Open Enrollment (OE) 2020 is from 8am on October 31 - 5pm on November 26, 2019.
OE is managed by Central Human Resources, and more information is available on the CHR website. 
The UCPath Center is hosting one-hour interactive webinars to provide information on new plans, and instructions on how to enroll using UCPath. Register here.
Security Questions
The first time you log in you'll be prompted to set up five security questions to protect your personal data.
The security questions help verify your identity to prevent unauthorized access or changes to your financial, health benefits or personal information. Click here for a demo on setting up your security questions.
You'll need to answer your security questions to access the following information:
Direct deposit
Paycheck
W-2
W-4 (state and federal)
Benefits summary
Dependent coverage
Life events/benefits changes
Enroll in benefits
Personal information
You can read this article on Link, UCOP's e-newsletter, to learn more about the new security verification on UCPath.
Talent Acquisition Management (TAM)
UCPath Talent Acquisition Management (TAM) is Berkeley's new staff recruitment module. TAM went live in September 2019.
Access TAM in UCPath Online by clicking on Recruiting Workcenter in the menu on the left, then click the UC Berkeley Campus Careers link.
If you have applied to a position that was in active recruitment at the time of conversion to UCPath TAM, your application was converted and you will still be considered for the position. Do not reapply.
Where to Get Help With UCPath TAM
For questions about how to perform specific actions in UCPath TAM, please contact the Berkeley Regional Services First Contact Team by phone at (510) 664-9000, option 3. If you experience technical issues using UCPath TAM, please contact the UCPath Center using the Ask UCPath Center button in the upper right of UCPath Online. 
For more information on other common topics, please visit the FAQs for Employees page. 
Planned UCPath System Unavailability
There will be planned UCPath system unavailability when our sister campuses cut over to UCPath. UCPath will be completely unavailable on the dates below. This includes all transactions, inquiry/view-only access, self-service, and TAM job postings.
| | |
| --- | --- |
| System Unavailable | Reason |
| 12/5, 5PM - 12/9, 8AM | UC Irvine, UC Santa Cruz Monthly Conversion |
| 12/18, 5PM - 12/22, 8AM | UC Irvine, UC Santa Cruz Biweekly Conversion |
Login / Access
If you accidentally select a campus other than UC Berkeley from the UCPath Online campus list (see below), you will need to clear your browser cookies and close your browser to return to the list of campuses.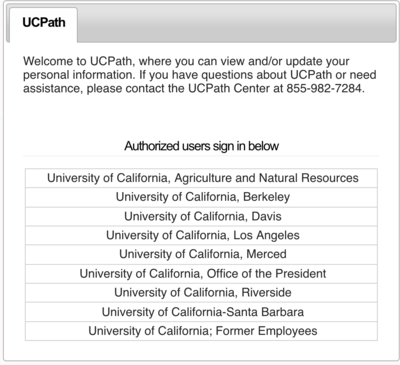 If you are still unable to login to UCPath, please submit a ServiceNow ticket.
Where to Report a Pay Issue
If you are unsure which service region your unit belongs to, you can Find Your Region here. Cal Performances and International House (I-House) employees should contact their local HR team.
UCPath Online Training
| | |
| --- | --- |
| Español / Spanish | 中文 / Mandarin |