When UC Berkeley transitions to the UCPath system, many current processes for HR, payroll, personnel, and benefits transactions will change.
Highlights of UCPath Changes
Here's a preliminary view at some, but not all, of the important changes when UCPath launches at UC Berkeley.
To navigate directly to the desired content, click on the anchor links below.
---
HR / Workforce Administration
Self-Service Online Portal
The new UCPath self-service portal allows employees to update their own personal data such as:
Name *
Contact Information (Address, email address, phone number)
Emergency contacts
Honors, degrees, licenses, certifications
Employee disclosures (For represented employees, disclosures are subject to applicable collective bargaining agreements).
Federal or California Withholding
Benefits enrollment
Benefits changes (life event updates)
Using the UCPath self-service portal, employees can view:
Title, employee ID, and service date
Paycheck information
Employment verification summary
Leave balances (e.g. accruals) for sick, vacation, sabbatical, including accrual rate and maximum.
W-2 year end wage report and tax statement. Please note: All employees will still be able to access past W-2s (earnings prior to UCPath Go-Live) in At Your Service Online (AYSO).
Benefit selections
You can also open and track service requests with the Ask UCPath Center feature within the self-service portal.
* For changes to identifying information, such as legal name, birth date or Social Security numbers, Campus Shared Services (CSS)/Regional HR partners will submit the request to the UCPath Center.
In future phases of the UCPath project, the remaining AYSO features will also move to UCPath. Until then, employees can still access AYSO. Read At Your Service (AYSO) Isn't Going Away Yet
---
Absence Management
Viewing Vacation and Leave Balances
By logging into the UCPath online portal, employees can view their leave balances:
Vacation
Sick leave
Sabbatical credits
Family Medical Leave Act (FMLA)
Employees who do not have access to a computer or mobile device (e.g. cell phone), can request information from their department or Campus Shared Services (CSS)/Regional HR partner.
---
Benefits
Life Events
When UCPath is launched, employees who have a life event can log into the UCPath self-service portal and make updates to initiate changes to their employee profile. Creating a new life event through the portal will trigger a UCPath Center request with instructions for the employee to validate the activity and update benefits information, if necessary. Employees may also be instructed to update additional information such as tax withholdings.
Examples of life events that can be made by the employee within designated time periods of the specific event:
Marriage
Birth
Adoption
Divorce
Benefit changes for Accidental Death and Dismemberment (AD&D), disability insurance or life insurance
Benefit Order Deductions
All paychecks issued by the UCPath Center list deductions in a consistent order. As a result, some employees may see a change in the order of their deductions or listed under different labels. The order of deductions is standard across all UC locations.
---
Payroll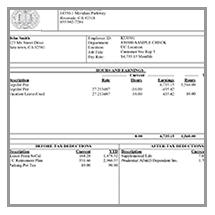 With the UCPath implementation, paychecks will look different along with updates that make paychecks the same for all University of California (UC) employees.
Highlight of paycheck changes:
Taxes and deductions will be displayed differently and may have different labels such as:

FEDERAL TAX = Fed Withholding
CA STATE TAX = CA Withholding
OASDI = Fed OASDI/EE
MEDICARE = Fed Med/EE

New employee ID numbers which appear on the UCPath paycheck, and in the UCPath self-service portal. The PeopleSoft ID (EMPL ID) will not replace the University ID (UID). It will serve as a separate identifier for employees in the UCPath system.
Paycheck statements will be available in the UCPath portal one day before payday. Direct deposit pay statements, however, will only be available through the UCPath Portal. If you currently receive a paper paycheck, your paycheck will be mailed on payday to your home address on file by U.S. Mail on payday (arrival after payday) when the UCPath system goes live in spring 2019. Consider direct deposit if you're not currently enrolled today.
Employees can view their vacation, sick leave, sabbatical credits, Family Medical Leave Act (FMLA), and other leave balances by logging into the UCPath portal. Employees who do not have access to a computer or mobile device (e.g. cell phone), can request information from their department or Campus Shared Services (CSS)/Regional HR partner.
Pay Methods
Employees can manage how they receive pay in the UCPath portal. Employees are strongly encouraged to receive their pay via direct deposit prior to the transition to UCPath. Key changes include:
After UCPath Go-Live, employees can elect up to three (3) direct deposit accounts at different financial institutions in the UCPath portal.
All U.S. banks participating in the Automated Clearing House (ACH) Network are available for direct deposit
All paychecks are mailed to the employee's home address until the employee establishes direct deposit * in the UCPath portal and activation is complete.
If employees have already signed up for direct deposit prior to the UCPath transition, they will not need to sign up again.
* Please note: Direct deposit activation may take up to one to two pay cycles to go into effect. You will receive a paper payroll check until your direct deposit has been activated. If you have not received direct deposit within a month or more, you must re-enroll in direct deposit.
Paper Paychecks:
Paper paychecks will no longer be available for pick up on campus.
Instead, all paper paychecks are mailed to an employee's designated home address via U.S. Mail on payday if you have not enrolled in direct deposit.
Paychecks sent by mail are issued on the pay date and take additional time (arrival after payday) to arrive at the employee's designated home address.
Payroll deduction data from the Payroll & Personnel System (PPS) will not get converted into the UCPath system. As a result, UCPath does not recognize credit union "deductions" (e.g. mortgage payments, car payments) that are already in place. To distribute money from your paycheck to a credit union account, you must create a new direct deposit for that account in the UCPath system (set up after UCPath Go-Live).
Benefit Deduction Holiday (Biweekly Paid Employees Only)
For biweekly paid employees, there are two times a year when flat dollar deductions are not deducted from paychecks. Specifically, there are normally twenty-six (26) biweekly paydays per year, with two biweekly paydays each year (referred to as deduction holidays) which have no flat dollar deductions taken from paychecks. These deduction holidays are identified on the Biweekly Payroll Calendar and the Payday Calendar.
The Benefit Deduction Holiday scheduled for January 9, 2019 is being deferred to the UCPath scheduled deduction holiday for paychecks issued on May 29, 2019. These impact biweekly paid employees and results in the same number of deduction holidays as in the Personnel and Payroll System (PPS) for 2019.
---
UCPath Center
A customer services hub—located in Riverside, California—where payroll, benefits, and personnel information (based on role) will be centralized and available for all UC employees, ensuring they receive consistent, accurate job-related information. The UCPath Center (a UC organization) manages the UCPath portal where your job-related information is stored.
The UCPath Center is the first point of contact for many employees, and local department questions and concerns. Also, the UCPath Center coordinates across relevant departments (e.g. Campus Shared Services/Regional HR partners), as needed and tracks the resolution process through closure.
UCPath Center Language Support Services
The UCPath Center in Riverside provides UC employees with the option to select customer service in Spanish by phone. The Employee Services team member will offer the employee the option to receive follow-up email correspondence about their inquiry in Spanish or English. If Spanish is selected, the Employee Services team member will also include the English translation as well.
Also, the UCPath Center Employee Services team partners with Language Lines, an on-demand language service provider, which offers assistance in more than 240 languages.
---
CalPath Connect (Issue 4) | UCPath Overview | News
---