Case for Change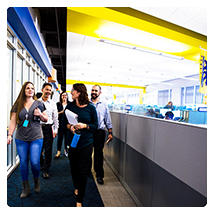 University of California's (UC) current payroll personnel system (PPS) is more than 35 years old—with 11 different and disconnected versions, and does not meet the changing needs of our complex employee population. With the existing systems, we are limited in our ability to protect personal data, ensure regulatory compliance (research and payroll), and share best practices across campus locations.
Depending on the respective campus resources, employee access to information, service support, and overall user experience is inconsistent. Many of the processes we follow today have been modified over the past three decades and vary greatly across UC locations even though our operations are not that different.
What is UCPath?
UCPath is a UC-wide initiative that connects payroll, benefits, and personnel transaction processing across all campuses, medical centers, and research units. The UCPath Project, which is mandated by the Office of the President, aligns with the Working Smarter Initiative by implementing modern technology and operational changes that will yield sustainable long-term cost savings, quality, and service improvement.
What does UCPath stand for? Is it an acronym?
UCPath = UC Payroll, Academic Personnel, Timekeeping & Human Resources
UCPath Components:
Technology: One system (PeopleSoft v.9.2) that will unify every UC location for payroll, benefits, HR, and personnel information for all employees.
Services: Establishes a shared services hub (UCPath Center) to support all UC employees
Processes: Updated HR and academic personnel processes for UC Berkeley. UCPath templates will be used to submit all requests into UCPath.
With UCPath, all UC Berkeley employees will have a more consistent experience:
New, improved 24/7 online access to employee information through the UCPath portal
Dedicated and responsive customer service support with the UCPath Center
Improved access to view and track employee vacation, sick time, and other leave accrual balances.
Increased options for direct deposit accounts (paycheck can be split three ways into direct deposit accounts)
Greater efficiency from one HR information system, standardizing approximately 100 UC-wide business processes.
---
Understanding What's New with UCPath
UCPath Center
UCPath Portal
Ask UCPath Center Help Request Tool
A customer services hub—located in Riverside, California—where payroll, benefits, and personnel information (based on role) will be centralized and available for all UC employees, ensuring they receive consistent, accurate job-related information. The UCPath Center (a UC organization) manages the UCPath portal where your job-related information is stored.

UCPath Center scope and services:

Specialists in processing high volume, low complexity payroll, benefits, and HR/academic personnel transactions for all UC employees. Highly complex transactions and in-depth questions will still be handled at UC Berkeley, and campus staff will continue to provide help, resolving questions and issues.
The UCPath Center staff (more than 20% have worked at other UC locations) are prepared to assist UC employees in Spanish and other languages. The UCPath Center Employee Services team partners with Language Lines, an on-demand language service provider, which offers assistance in more than 240 languages.

When UC Berkeley goes "live" on UCPath, this online, self-service tool will give employees access to UC employment information based on their role. The portal will replace At Your Service (AYSO) for viewing and managing employee information.* Features include:

Accessible from computers (work or home), mobile-friendly, and available to employees 24 hours a day, 7 days a week.
View, access, and update home address, phone, email, etc.
Choose direct deposit options
View pay stubs
Update life events (e.g. marriage, births, etc.)
View benefit selections
View vacation / sick leave balances

 

* Exception: Employees will continue to access AYSO for retirement information, to update beneficiaries, and to access previous years W-2s.

A secure way to request help with payroll, benefits, and personnel questions.

When you visit the UCPath self-service portal, you can click on the Ask UCPath Center for help:

Open and submit your question(s) and include details to help UCPath Center staff research your issue
Easily check the status of your inquiry by returning to the Ask UCPath Center link
Your personalized page will display helpful information related to your question(s) and a history of previous requests.
If needed, a UCPath Center representative will call you to discuss your case.
Generally, you will receive a response within three business days when using the Ask UCPath Center feature.